Stream starts at time stamp 17:00
On 29th October, Readyyy! held a stream called Readyyy! Showww! (the triple w's are intentional and in reference to the use of www's [used to express laughter] in the comments of streams). It was to commemorate 50,000 pre-registrations and featured the voice actors of both SP!CA and La-Veritta.
You can watch the stream in the video above if you missed out. Though I'll do a little summary of everything shown and announced during the stream as well as other announcements from the official twitter below the "read more" tab.
---
=Readyyy! Showww!=
The gang are back together (well at least 7 out of 18 are back for another stream, though I'm sure if they reach the next pre-reg milestones we'll get more Readyyy! Showww!s). Even Masaya Matsukaze, the guy you would see as an MC in almost all of Readyyy!s public events, is there as the mystery man voice from behind the scenes.
After the introduction of each guy, they go straight into business like showing off the designs of each character in their unit uniform in the style of the game.
They also confirm that the protagonist, the producer from Dear Productions that will be in charge of producing these boys, will have no voice and no specific gender. Mainly the protag is you! It's interesting they're going down the gender neutral route for the protag but I still would've loved an official character design even though you won't see them in the game through CGs or cards like A3!'s Izumi Tachibana or possibly a very basic character design feature so you can really self-insert yourself in there. But hey, that's just my wishful thinking.
They then show off SP!CA's and La-Veritta's music videos and start a poll on which MV they should rewatch again while adding commentary with the guys. Meanwhile, they show off the storyboards for SP!CA and La-Veritta's music videos supplied by Dandelion Animation Studio and boy what I would give to own those storyboards lol. I found the comments by the storyboard artists was particularly interesting with La-Veritta's MV. They put extra detail on the relationship dynamic between Uta and Genshin, making sure that the audience can the subtle expressions Uta makes when in front of Genshin and vice versa, along with noting that Uta is ignoring Genshin in another scene etc.
In the end, La-Veritta won the poll and well got to see the masterpiece that is La-Veritta's MV. Thank you Based God Dandelion Animation Studio. Edit: You can find scans of SP!CA's and La-Veritta's MV storyboards on the official website.
They then showed off RayGlanZ's key visual and gotdam… it's beautiful. You can see a better version of this in B's Log Article (you can also find a high quality version on the readyyy website, you can also find SP!CA's key visual there too.):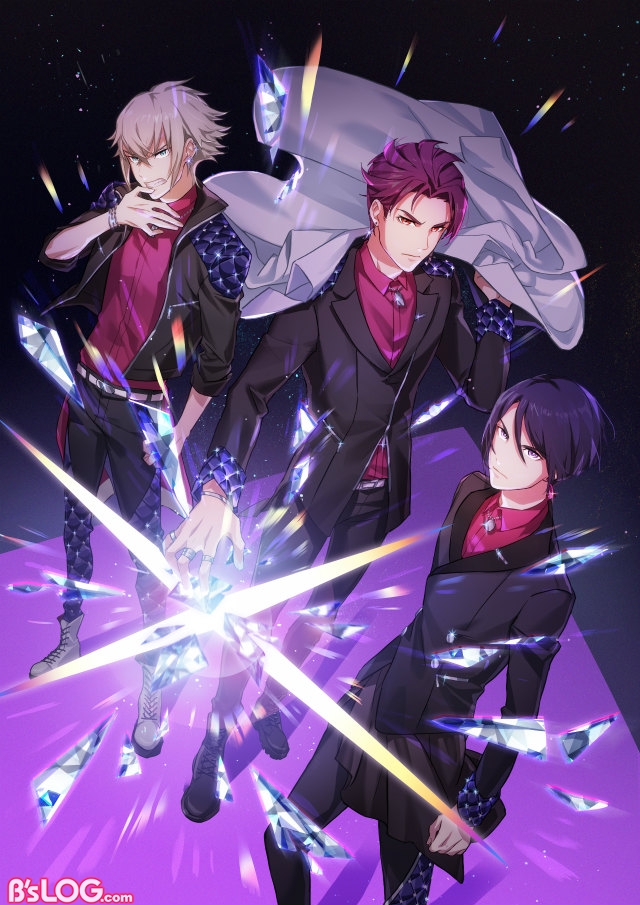 Touya is breaking the in-game currency daiya for us as a way to save our souls, bless
Another announcement is the fact that Readyyy will be at AGF2018 at Ikebukuro. They will have a booth that will include new goods, handshakes with the units, Readyyy! branded Umaibou (each umaibou will have one idol on the packet, 18 different packets), Idol peep holes at the booth (whatever that means) and finally flyers featuring key visuals like the one above with RayGlanZ.
They also showed off the acrylic key holder/charms that doubles as an acrylic stand too. You can also preorder Christmas cakes (I guess that's a thing) with your fav boy as the decoration.
Then there's talk about the collab cafe (which I'll go into detail later on) as well the finalised date of Readyyy's internet radio show hosted at Internet Radio Station Onsen:
It will start from 9th November and the MCs for the first radio show will be RayGlanZ's Katsuyuki Miura and La-Veritta's Fumiya Tanaka who will be hosting guest Tetsuei Sumiya of SP!CA on the 9th November. You can find the link of their radio show channel in this link, I'm unsure if this might be region locked to foreigners outside of Japan (though I do remember I experienced a region lock with an Enstar's radio show so it's not uncommon lol). The radio show will be called "Readyyy! Ohhh!" (gotta keep the trend of extra letters on the end).
They then play a game where they say lines that will melt your heart while stabbing a toy pirate in a barrel lol. The one who pops up the pirate will have their character's secret/other information read out.
After that's done we get to see the various signatures of each idol and most of them are pretty cute and unique.
There's also a campaign going on until 30th October 11:59pm (Japan time) for 3 lucky people to get either SP!CA or La-Veritta's signatures if you tweet your thoughts and requests with the tag #レディwww. Though I won't participate because I would need a Japanese address to mail the signatures to if (by the slim chance) I could win.
And that's it for the stream.
=AGF 2018=
As previously stated, Readyyy! will be attending AGF 2018. AGF, for those who don't know, is Animate Girls Festival, it's a annual event that's pretty much a festival for girls and their otaku needs 😆 A lot of companies, franchises and series will be there to cater for the female crowd with a lot of ikemens and goods so say goodbye to your wallet if you ever attend one. AGF will run from 10th November until 11th November.
At Readyyy's booth the voice actors of each unit will be there at different times and different days (possibly for that handshake meet up). Maten Rocket, RayGlanZ and La-Veritta will appear on the 10th and Just 4U and SP!CA will appear on the 11th. For exact times and more details on the eligibility of getting a handshack from the voice actors check here.
Goods sold at the booth includes:
Trading Acrylic Key Holders that doubles as a acrylic stand (as seen in the stream) [18 to collect]
Silicon Idol Unit Wrist Bands plus matching tin badge [5 to collect]
Readyyy! motif Ticket Holder
Trading Tin Badges of the idols [18 to collect]
Xmas Cake 2018 [18 cakes in total]
Readyyy! Idol Motif Umaibou [18 in total]
You can check out what the goods look like here.
=Collab Cafe with Sega Ikebukuro GiGO=
Readyyy!'s Collab Cafe is a-go! Well, more like there's more information on the collab cafe. Reservation starts on 31st October, though it's more like putting your name into a lottery and hoping your name gets pulled out and you get a reservation between the dates of 7th November and 2nd December. My brain really can't decipher the reservation system going on so I'm sorry I can't translate it, but if you're thinking of going to the collab cafe during your vacation to Japan in November you can check out more information on this webpage.
If you do go to the cafe, you can view music videos of each unit (depending on the schedule). Maten Rocket will have it's MV released to public for the first/second time, so those who get to attend the cafe will be lucky enough to watch it.
■ 7th November ~ 12th November – RayGlanZ's MV plays
■ 13th November ~ 18th November – Maten Rocket's MV plays
■ 19th November ~ 23rd November – La-Veritta's MV plays
■ 24th November ~ 27th November – Just 4U's MV plays
■ 28th November ~ 2nd December – SP!CA's MV plays
Drink menu includes idol unit motif cold drinks, original latte art each with one character. You get 1 random Readyyy! coaster for each drink you order. There are two designs (18 coaster per design) that are distributed depending on the time period, one is the collab cafe chibis and the other is the Readyyy! boys in their school uniform.
Main meal is between SP!CA motif loco moco or RayGlanZ motif pasta with blackish-purple cream sauce. Desserts include Maten Rocket motif parfait, Just 4U motif parfait or La-Veritta motif duo dessert plate. You also get 1 randomised bromide of any of the 18 idol boys, the illustration is a still from the music videos.
You may also get the chance to obtain birthday cards illustrated by Ebira of either Touya Munakata and/or Junnosuke Sanada to celebrate their birthdays during the duration of the collab cafe. These are handed out on a first come, first serve basis so these are limited.
If you tweet a photo taken inside the Sega collab cafe and add the hashtag #レディ, you can get 1 of 5 original idol unit cards when you show the tweet at the checkout.
You can also purchase goods at the collab cafe, these goods include: cute chibi chara tin badges (18 in total), collab cafe readyyy! chibi stand acrylics that doubles as a strap–there are two designs (18 stand charms per design), the first being cafe chibi characters and the second being the idols as chibis in their school uniforms. You can also purchase heart shaped tin badges with the illustrations being still images from the music videos.
Sounds like a fun time at the collab cafe (too bad I won't be able to go lmao).
=B's Log Article on RayGlanZ=
Before I end this post, I'd like to direct your attention to a B's Log article about RayGlanZ where it goes into detail about each member's personality and what they're like on (as idols) and off (as normal school kids).
I won't translate this article as I don't have permission to do so but I'll link it here. Using google translate on the page will loosely give you an idea about what the article is talking about. It's an interesting read, especially for fans of RayGlanZ.
B's Log says they'll do a similar article on SP!CA on the 6th of November, 2018 so keep your eyes peeled!
Thanks for reading.
EDIT: On 2nd November they released "lyric videos" of both SP!CA and La-Veritta's 3rd songs, these lyric videos contain both lyrics and visuals using a mix of graphics, the Live2D sprites and footage from the MV. You can check out SPICA's and La-Veritta's on their youtube channel.