Seeing that it was Aoba's birthday a few days ago (April 22nd), I guess this would be a fitting birthday post lol. Actually on the 22nd of April, preorders for the R18 Aoba figure/statue had opened (tho I think it was purposely set on that date).
I was thinking of just doing a lil tweet about it but why stop there when I can do a short post about it. I've got time to kill.
---

蒼葉 (Aoba)
Series: DRAMAtical Murder
Manufacture/Company: Native
Sculptor: Grizzly Panda
Price: ¥19,000 (tax included)
Release Date: November 2016
Height: 1/7 Scale
18.5cm (Aoba only)
26.5cm (Including the cross)

This might be the first R18 Male figure aimed at women to be created (or at least its the first that I've seen actually happen), hopefully it won't be the last. So thanks, Aoba, for opening up the door for R18 figures aimed for women 😆 .
Native (link nsfw) is best known for its R18 female figures, based on original illustrations or already established characters from series. They have both an online shop for shoppers in Japan and a global shop for international shoppers. This will be the first time that they are making a male R18 figure, but it makes me wonder if they'll keep it up or maybe this is just a one off thing. The sculptor is Grizzly Panda, who's one of my favorite works is of that Mikuzukin figure that I wish I could buy so much lol. Tbh I think they did a great job with sculpting Aoba and making Honyarara's illustration come to life.
Speaking of which, this is the illustration by Honyarara that the figure is based on. As expected from Honyarara for the gr8 details and colors:

Note: Please don't hot glue the figure to match the illustration. If you don't know what hot gluing means please don't look it up.
The figure includes the cross stand, chains, second face and rest assured genitals are included (whatever that may mean).
The first face seems kinda ahegao but its his crying face while the second face looks like he's a bit broken but still smiling, reminds me of his bad ends. For some reason he looks really pretty in the second face 😆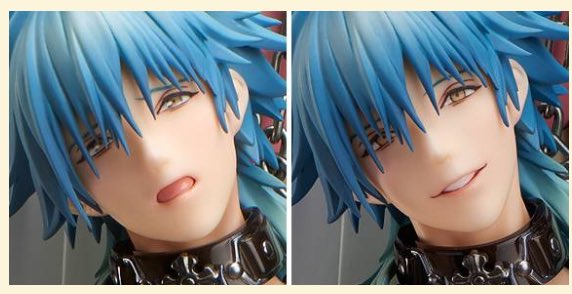 The chains are quite real and the leathery clothes prolly have texture to them (looks like it to me). In terms of quality they're pretty high. The collar around his neck is removable, his weird assless chaps thing (they called it an apron) are also removable. Even with the apron on, his ass is still in clear view lol, but by removing his apron you'll get a weird chastity belt or at least something that resembles it.
|・`ω・) チラッ!
It seems you can remove about most of his clothes except for his sleeve-things and laced pants things. Its really hard to describe these weird article of clothing 😆 What I mean is everything is removable except for the clothing on his limbs. Once thats all removed it'll look a little something like this:
«  »
And that ends the tour of Aoba's figure. So far its looking good in quality, the sculpt, the coloring and shading, the materials used for his clothes and even the decorative cross. I'm sure its worth the 19,000 yen but compared to my Kogitsunemaru he's a bit shorter, then again the high quality stuff going on here must be worth the money (tho its more expensive than some of Native's works).
If I was living alone I'd prolly think about buying it and just display it on top of my christmas tree every year (jk). Hopefully this might pave a new path for R18 male figures, Youji from Sweet Pool almost had his own figure until they canceled it (something to do with something happening to the prototype made them cancel it). I guess we'll never experience the wonders of having a figure of someone shitting out meat.
Preorders for Aoba Figure (Native) will be opened from April 22nd until June 20th 2016
Preorder bonus includes a post card illustrated by Honyarara

Shopping Links:
◊
¥19,000 (tax included)
*Sales have ended, no longer on sale
» If you're shipping outside of Japan you won't have to pay the goods tax subjected to products bought in Japan
» Can only be purchased by those over the age of 18, underage purchases are prohibited